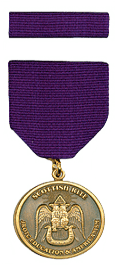 Since 1998 the Supreme Council of the Scottish Rite for the Southern Jurisdiction initiated a program of recognition for outstanding Junior ROTC students approved by the Assistant Secretary of Defense. This initiative recognizes high school youth enrolled in the Junior Reserve Officers Training Corps (JROTC) for their scholastic excellence and patriotic Americanism efforts. The award consists of a medal, ribbon, and a certificate suitable for framing. The medal depicts the heraldic logo of the Scottish Rite of Freemasonry, and by the words "JROTC Education and Americanism" calls attention to two of the major focal points of the Scottish Rite. This award recognizes one outstanding cadet in the second year or second to last year of their commitment to their unit.
To be eligible to receive this award, the Cadet must have: contributed the most among cadets on campus to encourage and demonstrate Americanism by deeds or conduct during participation in extracurricular activities or community projects; demonstrated academic excellence by being in the top 25% of his/her academic class; and demonstrated outstanding leadership by exhibiting qualities of dependability, good character, self-discipline, good citizenship, and patriotism.
The Valley of Mobile, AASR is proud to participate in the Scottish Rite JROTC Program for High Schools in partnership with the JROTC program leadership. High School JROTC programs within the jurisdiction of the Valley of Mobile are encouraged to contact us via email here.
Click here for the guidelines outlining eligibility, protocols for presentation as well as a description of the medal, ribbon, and certificate.